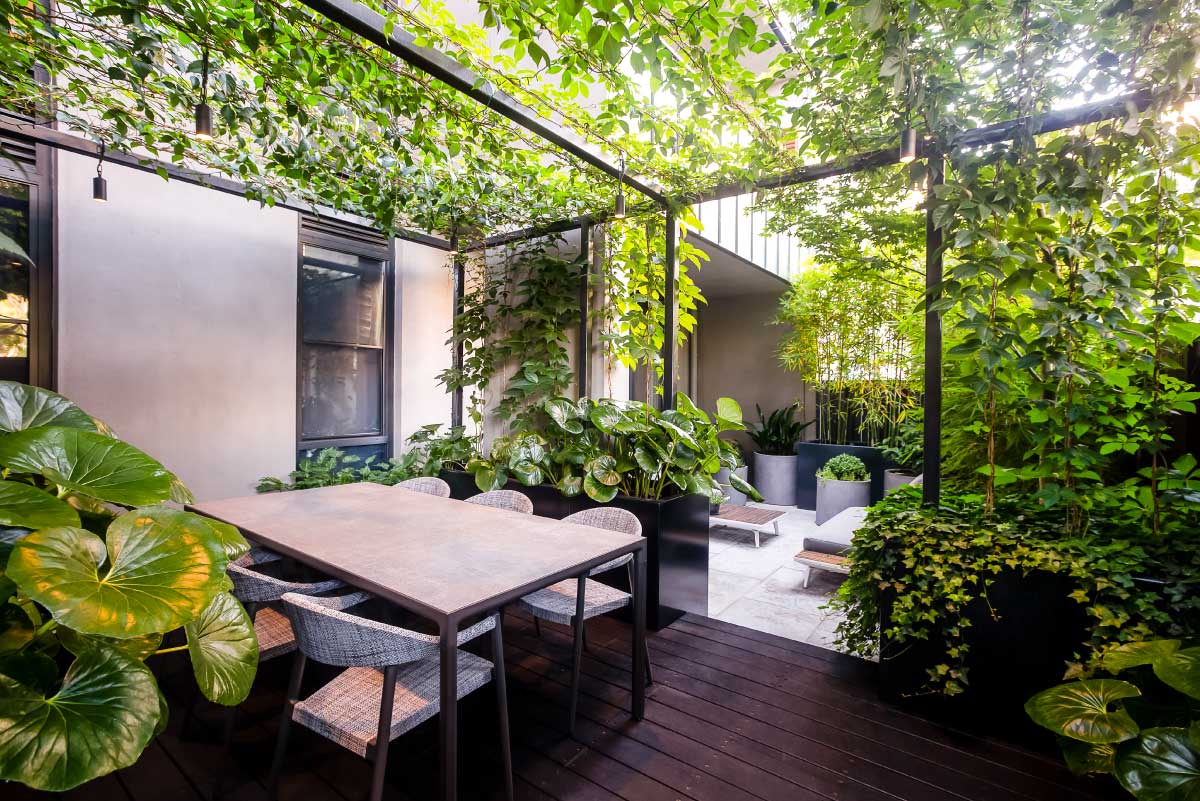 30 May

Hard To Look At…
Built Landscape vs. Soft Landscaping
Just like fashion, there are trends in landscape design, whether that is style, planting or materials falling in and out of vogue. We've seen plenty of garden trends come and go and with the rise in DIY renovation shows so to has the rise in over the top entertainers 'garden'.
Where the 'garden' has been replaced with large covered alfresco structures, Olympic sized swimming pools and monumental concrete structures, feature walls and screens galore.
Over the years the growing trend in these 'built landscapes' sometimes leaves little room for actual garden and planting to bring a sense of place to your home.
One of our main ethos here at LEG is plant where and as much as we can! Far too often garden is sacrificed for constructed elements that are seen as the number one priority and main attraction in the so called "garden".
A carefully balance design between the built and softer elements in the garden is key in creating a sense of intimacy in the space however big or small.
Rather than opting for simply laying a traditional solid pathway where access is secondary, we prefer to design stepping stones through the garden allowing for the planting to bleed between the steppers, blurring the lines between the hard landscape and softscape, bringing a greater sense of garden closer to the spaces and home.
Whilst this may seem like a simple idea, it will change the feel of your area into a garden rather than a way to simply getting from one space to the next.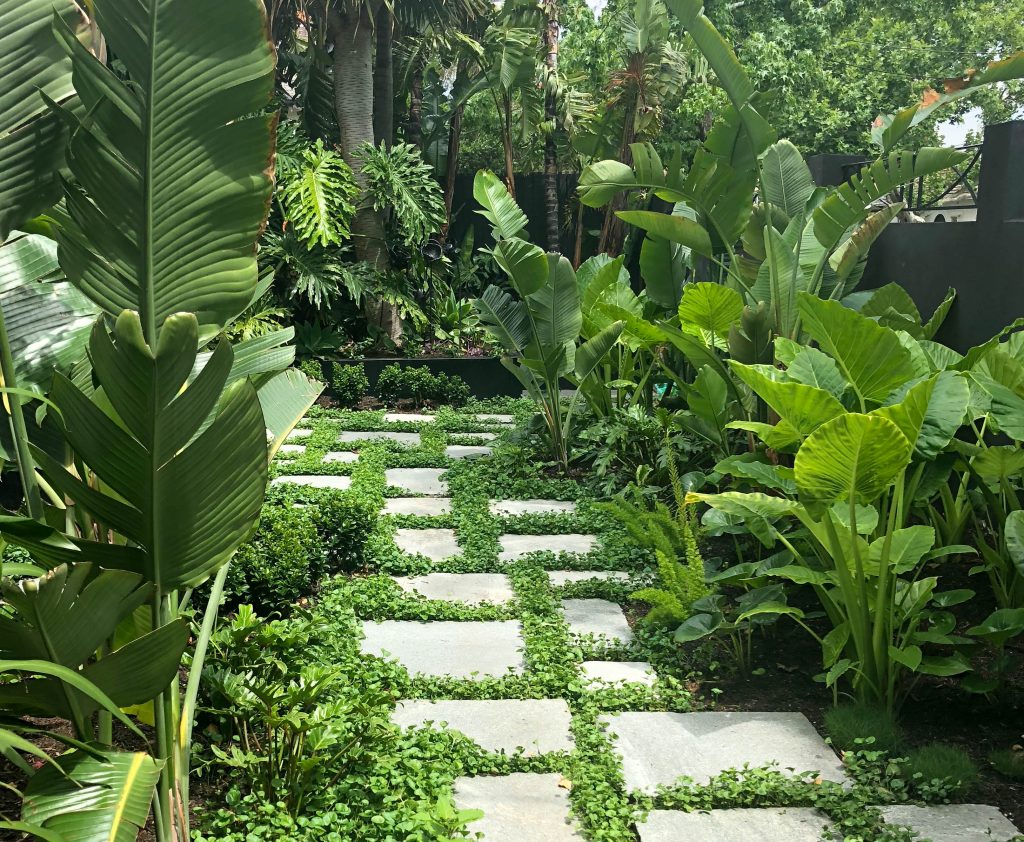 Playing off architectural elements through the use of sculptural planting is just one of the ways we can pump up the space through the use of plants.
Outdoor seating and areas of congregation are one of the main requirements for inner city 'Melbournites' to enjoy and entertain in their space. Why not bring a bench seat to life by creating a cantilever and planting tough textural plants beneath. With the right accent lighting, this bench seat could be the stand out feature in any garden all while serving as a function….!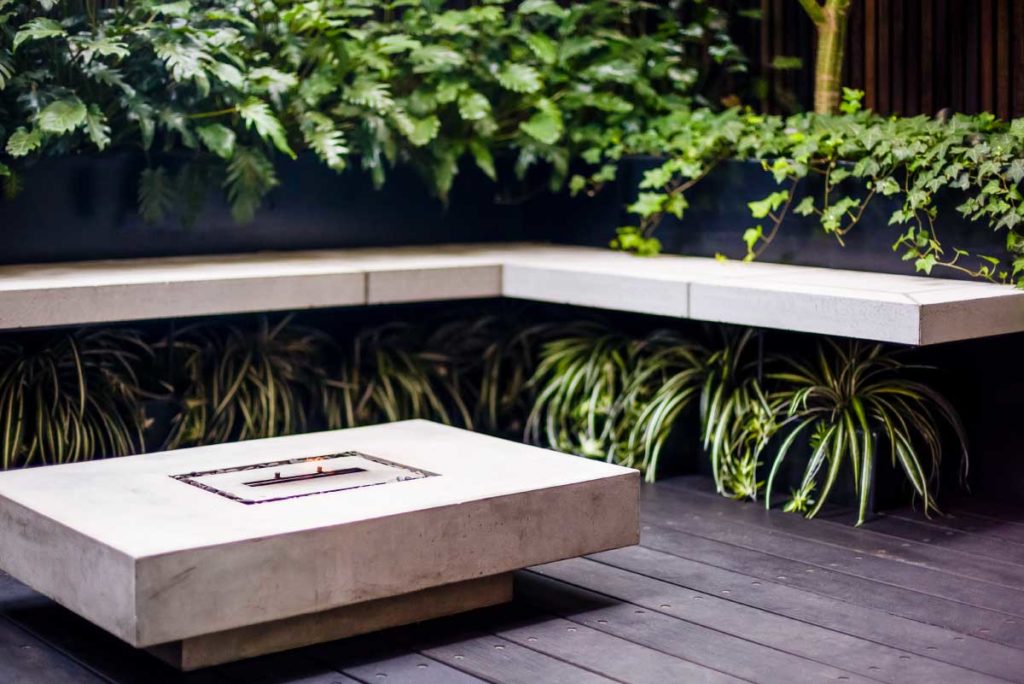 Water features and ponds are a very attractive element to have in the garden.
While a reflection pond can be relaxing and calm, so can a pond full of water plants!. We love the idea of a Papyrus, water lettuces and lilies for a romantic gardenesque aesthetic. A haven away from home just outside your doors.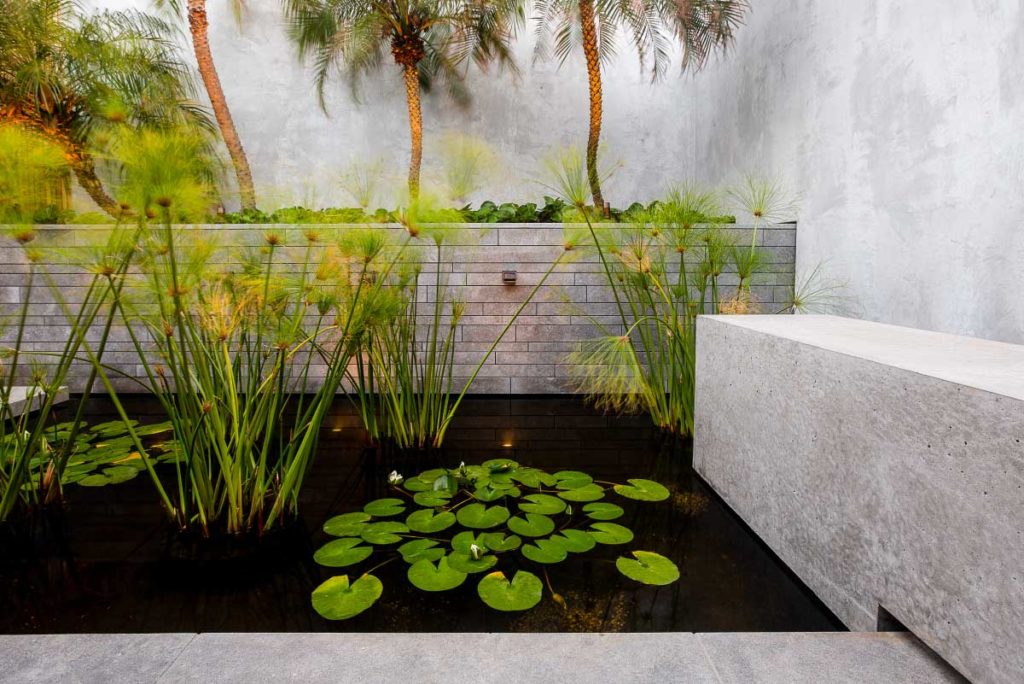 Alfresco and outdoor dining has been on the rise for many years. These structures have become more like a second house with a second mortgage than an area to escape and dine beneath the garden.
The structures have become austere, losing the very idea of outdoor dining as these tend to have no connection to the garden at all.
Whilst fully covered alfresco structures can bring all weather areas outside, we recommend a light-weight steel pergola cloaked greenery for dining beneath cascading drapery of plants. Creating an intimate space for an urban setting.
Vine covered pergolas bring both seasonal change and a chance to dine beneath garden.
During summer light is diffused by foliage, reducing heat and glare in both the outdoor and indoor spaces, whilst during winter months the precious warmth and sunlight is uninhibited through the skeletal framework of the defoliated vine.
This also provides views onto greenery from inside.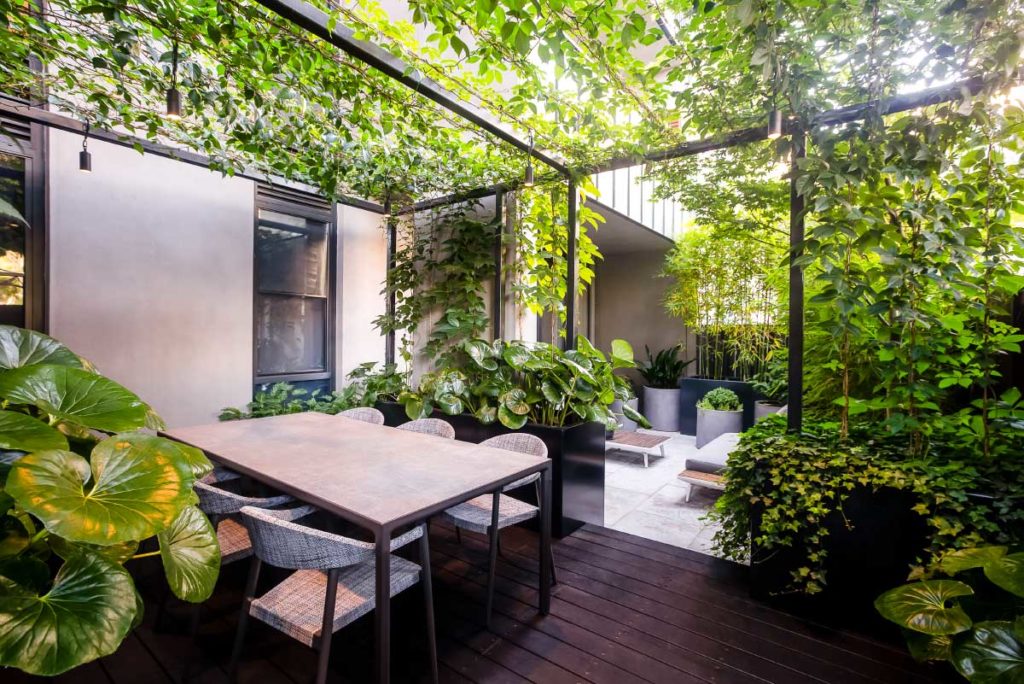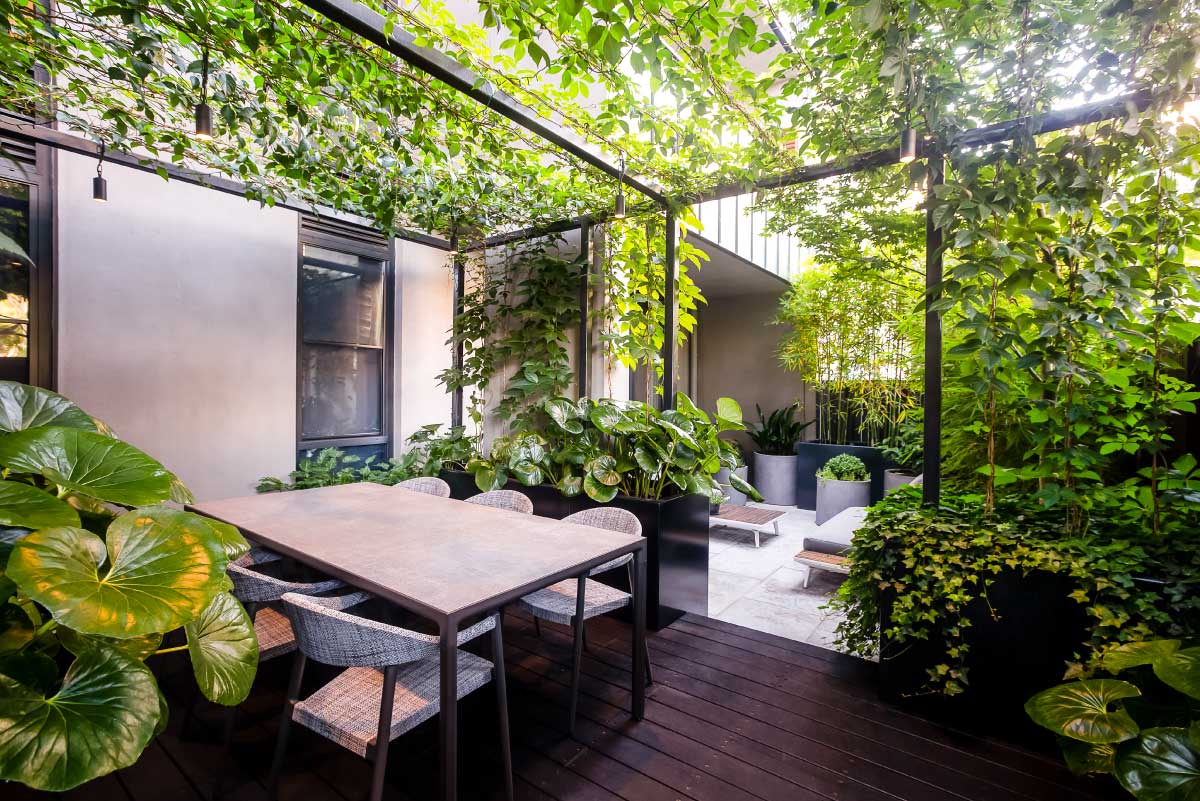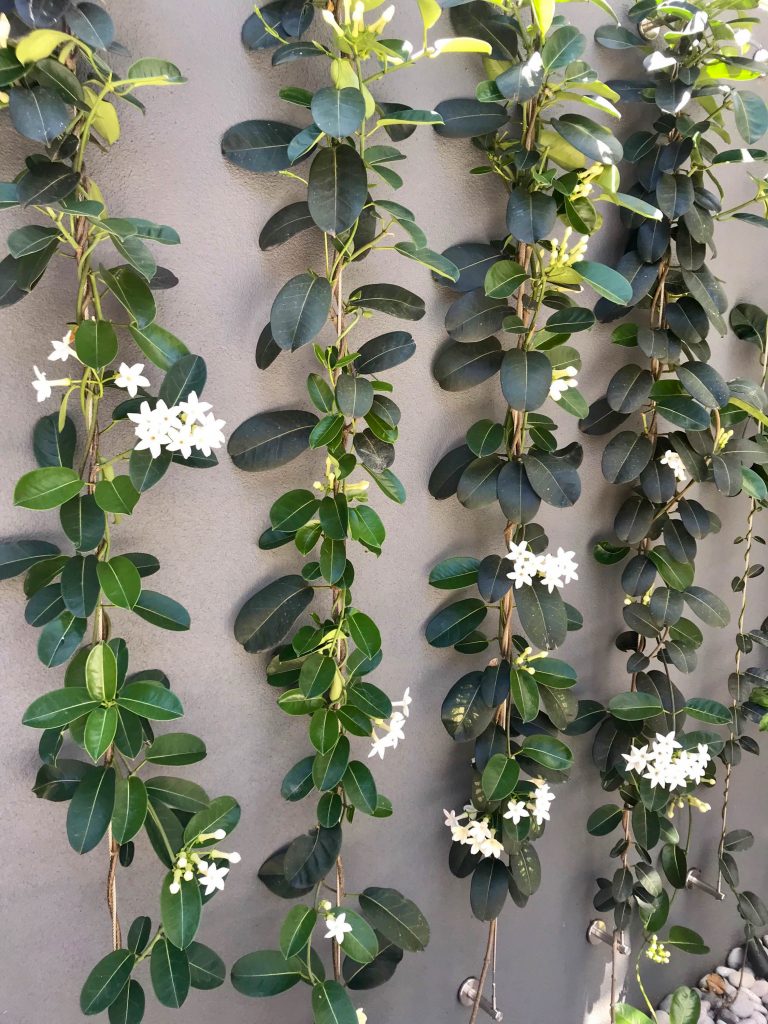 Instead of opting for a built screen which can not only be costly but also bulky and 'hard', we like to use vertical wires cloaked in greenery to create a delicate curtain of greenery. This also provides views onto greenery from any space. This is a great way to dress up a tall boundary wall.
We hope the ever changing trends shifts from a static, austere landscape that stays the same from season to season to a space that is ever evolving, embracing the seasonal change, delight of spring and the magic of plants as a whole.
Long live the garden!
---
By Sarah Anderson
Senior Landscape Designer

Sarah has a Bachelor of Landscape Architecture from RMIT and has been with the LEG team for 3 years. Sarah has more than 8 years experience in residential landscape design and loves bringing client's design brief to life!